FastNetMon: Protection against DDoS attacks

FastNetMon is a traffic analyzer and allows you to detect DDoS (Denial of Service) attacks in 2 seconds and block them. Supports NetFlow v5, v9. IPFIX , sFLOW v4, v5 and Port Mirror / SPAN .
You can detect malicious traffic on the network and immediately block the IP with BGP Blackhole or by applying some policy to the IP both attacker and attacked. Supports BGPv4 , BGP flow spec (RFC 5575).
It has compatibility with Cisco , Juniper , A10 Networks , Extreme , Brocade and MikroTik .
The integration is simple, since it does not require any change in the network topology.
In the following image we can see an implementation of FastNetMon Advanced with a 58gbps attack .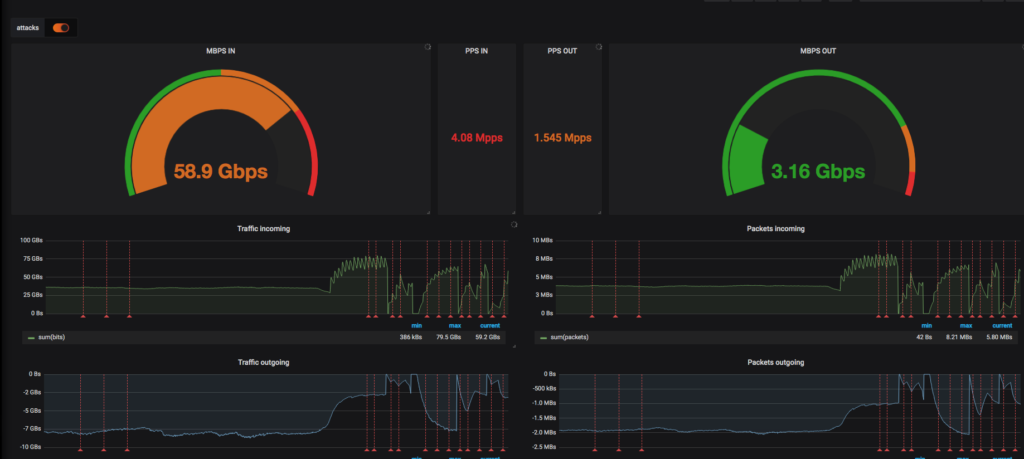 Do you want to try it on your network?
X-Press Technologies is an official FastNetMon partner and provides both the licenses and the installation and commissioning service of the DDoS distributed attack protection system.
What do I need to implement it?
A router or switch with Netflow or sFlow support
A server for FastNetMon (can be virtualized)
Autonomous System AS and public networks
Blackhole community with your provider (Required)
More information at Fastnetmon.com
FNM Manager panel
For those who purchase our Fastnetmon Advanced Edition service, they can obtain the FastNetmon Web Administration Panel free of charge for as long as the FNM license is active.